Habitat (forthcoming, 2022)
A controlled experiment in electronically-assisted aleatoric composition featuring (mostly) acoustic sounds from pianos, a homemade zither, vibraphone, double bass, violin, radios, found percussion and occasionally synthesizers.
The recordings feature collaborators Martin Rodriguez (radios, electronics), Gabrielle Godbout (vibraphone), Rodney Sothmann (double bass), and Samuel Bobony (drums, electronics), and were produced with support from the CALQ and the Canada Council For The Arts.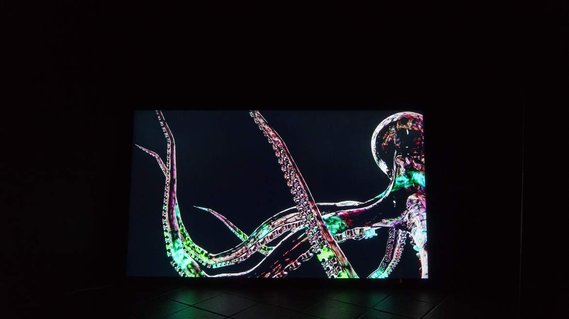 Chris Dorland - SPECIES - (Sound Design)
The exhibition consists of an ambitious single-channel data-driven video work untitled (species III) displayed on a 65" 4k LED monitor. Our Project room has been converted into a miniature black box theater environment. Untitled (species III), 2021, brings to life a digital creature encased within a digital womb. A semi-transparent cephalopod pulses hypnotically with intricate patterns against a deep black abyss. The cephalopod's skin is a cross between digital metadata and bioluminescent emissions. The artist created the skins using generative adversarial networks (GAN) as a starting point. GAN is a class of machine learning in the same family as deep fakes' allowing new images to be created out of the extrapolation of data sets. The effect on the creature's skin is both mechanical and organic, reminiscent of the throbbing life-like quality found in consumer districts- like Times Square in NYC, Dundas Square in Toronto, or Dotonbori in Osaka - where electronic advertisements flicker and glitch across the urban landscape.
Audio created for Chris Dorland's contribution to Red Bull Arts' quarantine series, Decameron TV, seen here in LED matrix form at Nicoletti Contemporary, London UK. 2021
Intermediate
Cassette & Digital Album, 2018
https://leonlouder.bandcamp.com/album/i-n-t-e-r-m-e-d-i-a-t-e